Tin Cup
This is a basic tin cup. The
rim is wire reinforced and
the wired handle is wrapped
around the rim for added
strength. It holds 2 cups of
liquid. There are no US or
CS markings on the cup
$6.00
Small Covered Boiler
The small covered boiler
(known to reenactors as a
mucket) holds 2 1/2 cups of
liquid. The boiler also has a
bail for hanging over the fire.
$15.00
Large Covered Boiler
The large covered boiler
(known to reenactors as a
mucket) holds 3 1/2 cups of
liquid. The boiler has a bail
for hanging over the fire. It
works great for heating up
soup on a cool day.
$20.00
Small Boiler
The basic small sized boiler.
The bail wire is attached
through a hole on either side
of the top wired rim. It holds
2 1/2 cups liquid.
$6.00
Large Boiler
A larger version of the small
boiler. The bail wire is
attached through a hole on
either side of the top wired
rim. This boiler holds 3 1/3
cups.
$10.00
Unit Coffee Pot
This coffee pot holds
approximately 5 gallons of
coffee -- enough for your
whole unit. The 3/16" bail is
attached with triple strength
bail holders, which makes it
strong enough to hang over
the fire on a tripod. There is
a bottom pouring handle
that is also riveted and
soldered on.
$130.00
Camp Coffee Pot
The basic 12 cup camp
coffee pot. The wire handle,
which is attached onto the
riveted on ears for added
strength, is great for
hanging above the fire to
keep the contents nice and
hot. The handle is also
riveted on the bottom, for
extra strength over the fire
$45.00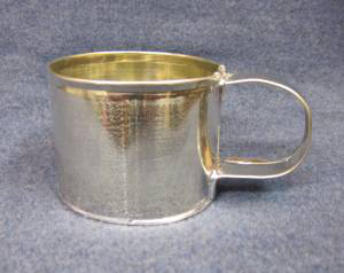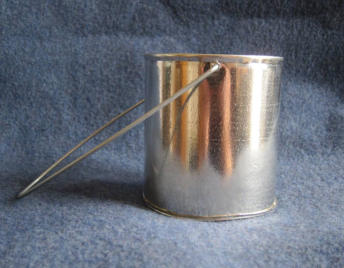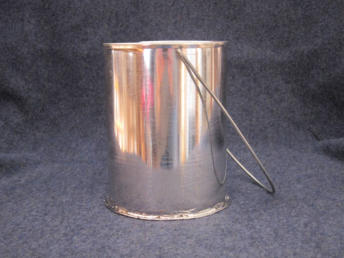 Teapot
This teapot holds 10 (teacup
size) cups. Perfect for the
ladies teas. It can set on the
grate and also has a bail to
hang above the fire to keep
the water warm.
$40.00